Books like Harry Potter
I love the 'Harry Potter' book series. Who doesn't, right? It was formally the first book I ever read, actually the very first book that I really felt like picking up and reading. I remember I watched the first Harry Potter movie with my classmates, it was a school trip. It fascinated me so much that I visited my school library the very next day and asked the librarian to loan me the Harry Potter book. She was glad to help. That is how my journey began. (Please tell me yours in the comments)
Not just me, Harry Potter has been inspiring children to take up reading ever since it first appeared on the literary scene. I also remember when the last book came, and when I was through with it, I felt so lonely and void. Many people felt depressed and the feeling that a great journey has ended & my key to some fantastic world has been taken away used to be overpowering. But over the years I was able to find books which I read because they were remotely like Harry Potter but proved to be more. Nothing is like HP but does it have to? There are some really unique books out there, which have their own voice and story and are totally worth reading.
Pennyroyal Academy Series by M.A. Larson
It is a story about a girl named Evie who joins the Pennyroyal Academy accidentally. It is a school where children are given the skills to be princesses and knights. Though initially, she is not sure what she has gotten herself into, she becomes the part of this new world as she delves deeper into being a princess who is adept in fighting dragons, witches, and other dark forces.
The Secrets of the Immortal Nicholas Flamel Series by Michael Scott
Nicholas Flamel appears briefly in Harry Potter and the sorcerer's stone. This is the story of two twins, Sophie and Josh who discover that the legend of Nicholas Flamel is real and he indeed was able to find a way to eternal life. They get sucked into a battle for the Book of Abraham the Mage which holds the secrets to the elixir of life. But wait, the battle is way more than immortality, the book must not go into wrong hands as it also has the secrets that can help destroy the world.
Sam London Adventure Series by Todd Calgi Gallicano
Who doesn't love Hagrid's Care of Magical Creatures class, I used to wait for them. I love the bond and friendship Harry and Hagrid share. Full of griffins and selkies, the Sam London Adventure series is about a Sam who stumbles upon a secret that changes his life forever. He learns that the magical creatures exist and that too in our National Parks. When he is hired by a Dr. Vance Vantana to make sure this secret remains a secret to the remaining world, he takes the job.
An Epic Series of Failures Series by Chris Rylander
It is a story about a dwarf named Greg who just like Harry finds about his true nature and identity a bit later in life. When the magic awakens in him and his kind who have been living under Chicago for 100s of years, war clouds begin to loom low over their world. You will love Greg and his enchanting new world.
The Uncommoners Series by Jennifer Bell
It is a story about Ivy and Seb who end up in a place called Lundinor (which is somewhere beneath London) as they try to evade brandishing toilet brushes. With Uncommoners you get to explore another magical world which is full of amazing characters and amazing action.
Miss Peregrine's Peculiar Children Series by Ransom Riggs
Miss Peregrine's Peculiar Children is another great series that gives us a peek into the life of an orphan boy Jacob who is 16 years old. A family tragedy leads Jacon on a journey that ends on a mysterious island in Wales which has an abandoned building which he later learns was an orphanage. He explores the building's many bedrooms and finds various vintage photographs of the children who used to live there. As the story progresses he becomes more and more sure that the children though impossible, are still alive somehow
His Dark Materials Series by Philip Pullman
It is a story about a strong heroine named Lyra Belacqua who is at the center of the world which is in state of constant war for 3 magical things. A magical compass that helps in finding answers to every question possible. The second thing is a knife that can carve out windows into other worlds. And the third thing is a mysterious particle people are ready to wipe out the world for.
Dragon Keepers Series by Kate Klimo, illustrated by John Shroades
I am sure you love the parts where dragons appear in the Harry Potter series (books 2, 4, and 7). If you do, I am sure you will also like the Dragon Keeper series too which is a story about cousins Jesse and Daisy. These 10-year-old kids are named the new dragon keepers and are given charge of a brand new dragon baby (Emmy). The thing is that this baby is very important. Over the course of the series, these kids save the dragon baby from evil St. George a couple of times and learn a great deal about Dragon keeping.
100 Dresses Series by Susan Maupin Schmid
How will you feel if you come across a closet which has 100 marvelous magical dresses? This is a story about a girl named Dimple who stumbles upon such a closet and whenever she dons a dress she transforms into someone else. She used the dresses to disguise herself while solving various mysteries of a magic castle. Just like Harry Potter, this story also has invisibility cloaks.
Ranger's Apprentice Series by John Flanagan
This book provides access to the interesting adventures and battles from the life of Will, a 15-year-old boy who is chosen as a Ranger's apprentice. He starts his journey right before an impending war and very soon learns that he is supposed to help because Rangers are actually the protectors, not the bad people the common people think them to be.
Knights of the Borrowed Dark series by Dave Rudden
This series tells the story of an orphan Denizen Hardwick who initially doesn't believe in magic, but when the day he meets a strange man and is hounded by monsters, his beliefs, and life change forever. The man he meets wants him to join some order of the knights. And though he feels a connection with the lot if they are a kind of family should not his parents should have left him with them?
The Great Library Series by Rachel Caine
Everyone knows that Alexandria's biggest library was destroyed about 2000 years ago but in The Great Library series, it survived. Isn't that great? But there is one problem, the plot says that now it controls all the knowledge disseminated to people. But there is a family, Jess's family that wants to know more and even goes ahead with smuggling books into their home. In her eagerness to know more about their rulers, Jess even gets herself enlisted in the Library's army and puts everyone including her in danger.
Redwall Series by Brian Jacques
An interesting magical novel that takes you deep into a world of evil rats and peace friendly mice. These stories of adventure with animals as the central characters are a great way to teach children of all ages about good and evil.
The Lost Years of Merlin Series by T. A. Barron
If JK Rowling wrote the coming of age story about Dumbledore, will you read it? Of course, you will. The closest book that we can recommend is Lost Years of Merlin where after a shipwreck Merlin finds himself alone with no memory of his life before that day. He embarks on a journey to find himself and ultimately save the realm of Fincayra.
Worst Witch Series by Jill Murphy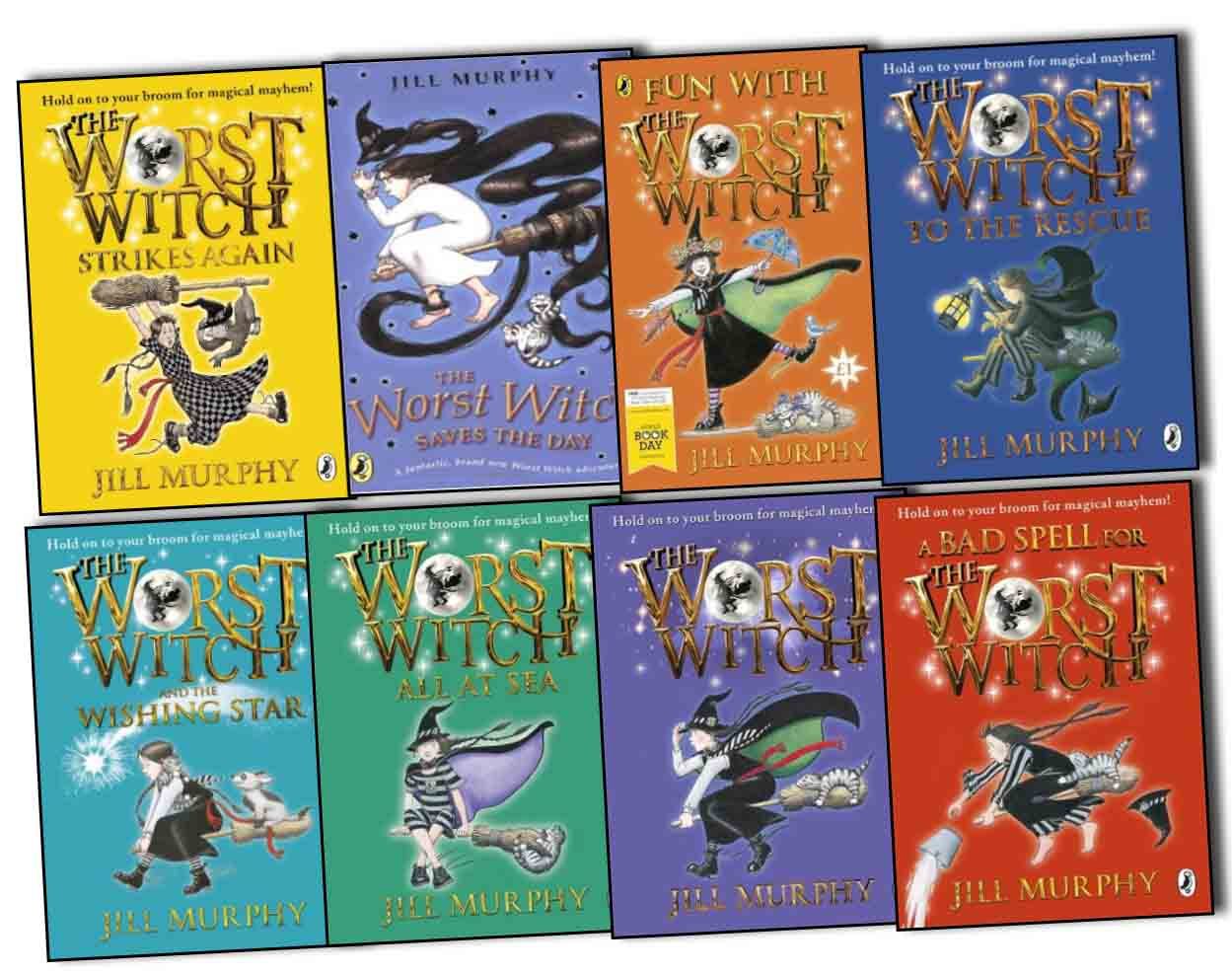 A magical school, a potion teacher that hates you, and prone to accidents, Mildred Hubble and Harry potter are similar in a lot of ways. It is a story of Mildred Hubble who despite her limitations is able to succeed in her newfound world of magic.